Product Name: STON2 rabbit pAb
Catalog No.: ALT7374
Reactivity: Human; Mouse
Applications: WB;IF/ICC;FCM;ELISA;IHC-p
Source: Polyclonal, Rabbit,IgG
Formulation: Liquid in PBS containing 50% glycerol, 0.5% BSA and 0.02% sodium azide.
Concentration:1 mg/ml
Dilution: WB 1:500-2000; IF/ICC 1:50-200;ELISA 1:2000-20000;IHC-p 1:50-200
Storage Stability: -20°C/1 year
Gene Name: STON2 STN2 STNB
Protein Name: STON2
Human Gene ID: 85439
Human Swiss Prot No.: Q8WXE9
Other Name:
Subcellular Location: Cytoplasm . Membrane . Cell junction, synapse, synaptosome . Some fraction is membrane-associated.
Expression: Ubiquitous.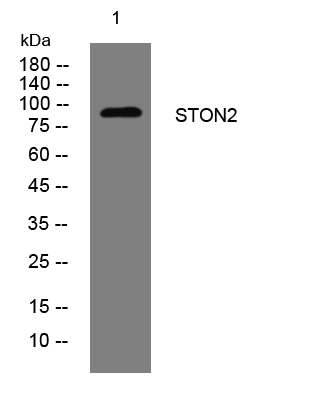 Western blot analysis of lysates from PC-12 cells, primary antibody was diluted at 1:1000, 4°over night

Immunohistochemical analysis of paraffin-embedded human oophoroma. 1, Antibody was diluted at 1:200(4° overnight). 2, Tris-EDTA,pH9.0 was used for antigen retrieval. 3,Secondary antibody was diluted at 1:200(room temperature, 45min).
For research use only. Not for use in diagnostic procedures.