Product Name: RIMB1 rabbit pAb
Catalog No.: ALT7603
Reactivity: Human; Mouse;Rat
Applications: WB;IHC-p
Source: Polyclonal, Rabbit,IgG
Formulation: Liquid in PBS containing 50% glycerol, 0.5% BSA and 0.02% sodium azide.
Concentration:1 mg/ml
Dilution: WB 1:500-2000;IHC-p 1:50-300
Storage Stability: -20°C/1 year
Gene Name: BZRAP1 KIAA0612 RBP1 RIMBP1
Protein Name: RIMB1
Human Gene ID: 9256
Human Swiss Prot No.: O95153
Other Name:
Subcellular Location: Cytoplasm . Mitochondrion . Preferentially expressed in the mitochondria in the presence of TSPO.
Expression: Predominantly expressed in brain, pituitary gland and thymus in adults. In adult brain, highest expression found in temporal lobe and the putamen, followed by amygdala, caudate nucleus, cerebral cortex, occipital and frontal lobe. A high expression level is also observed in fetal tissues like brain, heart, kidney and thymus.

Western blot analysis of lysates from Hela cells, primary antibody was diluted at 1:1000, 4°over night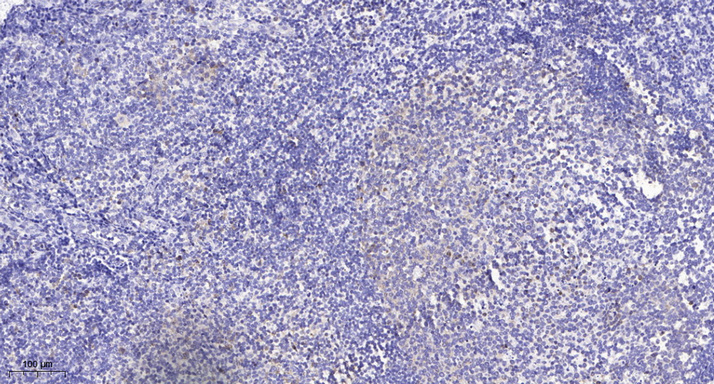 Immunohistochemical analysis of paraffin-embedded human tonsil. 1, Antibody was diluted at 1:200(4° overnight). 2, Tris-EDTA,pH9.0 was used for antigen retrieval. 3,Secondary antibody was diluted at 1:200(room temperature, 45min).
For research use only. Not for use in diagnostic procedures.