Product Name: GPAT4 rabbit pAb
Catalog No.: ALT7454
Reactivity: Human; Mouse
Applications: WB
Source: Polyclonal, Rabbit,IgG
Formulation: Liquid in PBS containing 50% glycerol, 0.5% BSA and 0.02% sodium azide.
Concentration:1 mg/ml
Dilution: WB 1:500-2000
Storage Stability: -20°C/1 year
Gene Name: AGPAT6 GPAT4 UNQ551/PRO1108
Protein Name: GPAT4
Human Gene ID: 137964
Human Swiss Prot No.: Q86UL3
Other Name:
Subcellular Location: Endoplasmic reticulum membrane ; Multi-pass membrane protein .
Expression: Ubiquitous. High levels in testis. Relatively high level of expression in skeletal muscle and heart. Relatively low level of expression in lung.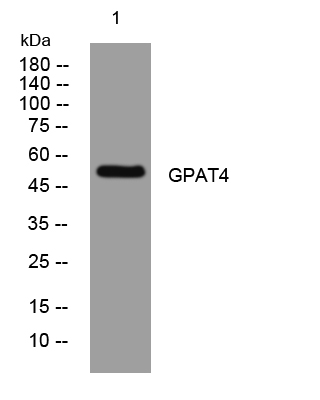 Western blot analysis of lysates from 293T cells, primary antibody was diluted at 1:1000, 4°over night
For research use only. Not for use in diagnostic procedures.