Product Name: UIF rabbit pAb
Catalog No.: ALT7306
Reactivity: Human; Mouse;Rat
Applications: WB
Source: Polyclonal, Rabbit,IgG
Formulation: Liquid in PBS containing 50% glycerol, 0.5% BSA and 0.02% sodium azide.
Concentration:1 mg/ml
Dilution: WB 1:500-2000
Storage Stability: -20°C/1 year
Gene Name: FYTTD1 UIF
Protein Name: UIF
Human Gene ID: 84248
Human Swiss Prot No.: Q96QD9
Other Name:
Subcellular Location: Nucleus, nucleoplasm . Nucleus speckle .
Expression: Expressed in a wide variety of cancer types.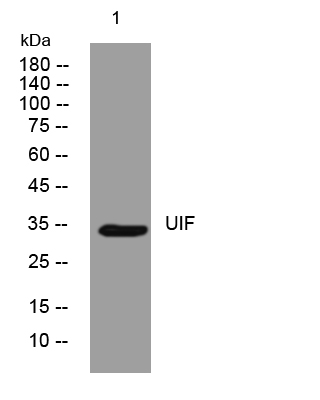 Western blot analysis of lysates from DU145 cells, primary antibody was diluted at 1:1000, 4°over night
For research use only. Not for use in diagnostic procedures.