Product Name: RUVB1 rabbit pAb
Catalog No.: ALT7330
Reactivity: Human; Mouse;Rat
Applications: WB
Source: Polyclonal, Rabbit,IgG
Formulation: Liquid in PBS containing 50% glycerol, 0.5% BSA and 0.02% sodium azide.
Concentration:1 mg/ml
Dilution: WB 1:500-2000
Storage Stability: -20°C/1 year
Gene Name: RUVBL1 INO80H NMP238 TIP49 TIP49A
Protein Name: RUVB1
Human Gene ID: 8607
Human Swiss Prot No.: Q9Y265
Other Name:
Subcellular Location: Nucleus matrix. Nucleus, nucleoplasm. Cytoplasm . Membrane . Cytoplasm, cytoskeleton, microtubule organizing center, centrosome. Dynein axonemal particle . Mainly localized in the nucleus, associated with nuclear matrix or in the nuclear cytosol, although it is also present in the cytoplasm and associated with the cell membranes. In prophase and prometaphase it is located at the centrosome and the branching microtubule spindles. After mitotic nuclear membrane disintigration it accumulates at the centrosome and sites of tubulin polymerization. As cells pass through metaphase and into telophase it is located close to the centrosome at the eaYy phase of tubulin polymerization. In anaphase it accumulates at the zone of tubule interdigitation. In telophase it is found at polar tubule oveYap, and it reappears at the site of chromosomal decondensation in the daughter cells.
Expression: Ubiquitously expressed with high expression in heart, skeletal muscle and testis.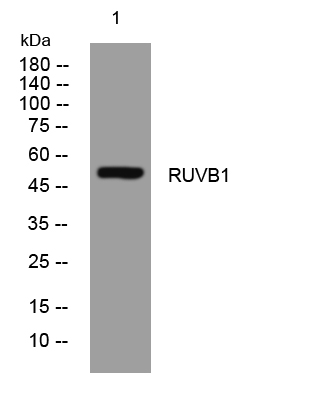 Western blot analysis of lysates from MCF-7 cells, primary antibody was diluted at 1:1000, 4°over night
For research use only. Not for use in diagnostic procedures.