Product Name: RD3 rabbit pAb
Catalog No.: ALT7662
Reactivity: Human; Mouse
Applications: WB;ELISA;IHC-p
Source: Polyclonal, Rabbit,IgG
Formulation: Liquid in PBS containing 50% glycerol, 0.5% BSA and 0.02% sodium azide.
Concentration:1 mg/ml
Dilution: WB 1:500-2000;IHC-p 1:50-300; ELISA 2000-20000
Storage Stability: -20°C/1 year
Gene Name: RD3 C1orf36
Protein Name: RD3
Human Gene ID: 343035
Human Swiss Prot No.: Q7Z3Z2
Other Name:
Subcellular Location: Cell projection, cilium, photoreceptor outer segment . Photoreceptor inner segment . Endosome . Nucleus . Cytoplasm . Cytoplasm, perinuclear region . Colocalizes with GUCY2E and GUCY2F in rods and cones photoreceptors. Colocalizes with GUK1 in photoreceptor inner segments and to a lesser extent in the outer plexiform layer (By similarity). Strong dot-like perinuclear staining in the epithelial cells (PubMed:29030614). .
Expression: Expressed in retina (PubMed:12914764). Widely expressed (at protein level) (PubMed:29030614). In the retina the strongest immunoreactivity is detected in the inner half of the cytoplasmic portion of the photoreceptor layer, where rods and cones are found, and the external half of the outer plexiform layer (at protein level) (PubMed:29030614).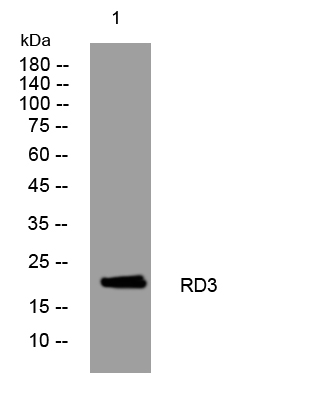 Western blot analysis of lysates from AD293 cells, primary antibody was diluted at 1:1000, 4°over night

Immunohistochemical analysis of paraffin-embedded human Squamous cell carcinoma of lung. 1, Antibody was diluted at 1:200(4° overnight). 2, Tris-EDTA,pH9.0 was used for antigen retrieval. 3,Secondary antibody was diluted at 1:200(room temperature, 45min).
For research use only. Not for use in diagnostic procedures.