Product Name: QCR1 rabbit pAb
Catalog No.: ALT7734
Reactivity: Human; Mouse;Rat
Applications: WB;ELISA;IHC-p
Source: Polyclonal, Rabbit,IgG
Formulation: Liquid in PBS containing 50% glycerol, 0.5% BSA and 0.02% sodium azide.
Concentration:1 mg/ml
Dilution: WB 1:500-2000;IHC-p 1:50-300; ELISA 2000-20000
Storage Stability: -20°C/1 year
Gene Name: UQCRC1
Protein Name: QCR1
Human Gene ID: 7384
Human Swiss Prot No.: P31930
Other Name:
Subcellular Location: Mitochondrion inner membrane ; Peripheral membrane protein ; Matrix side .
Expression: Expressed in brain, including substantia nigra, striatum, cortex and cerebellum, and in spinal cord, heart, kidney, liver and muscle.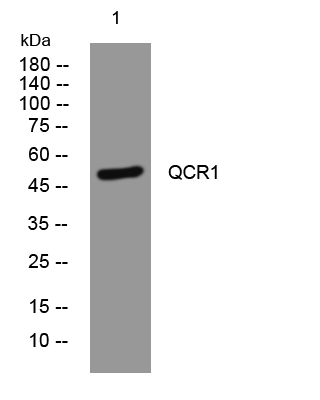 Western blot analysis of lysates from 293T cells, primary antibody was diluted at 1:1000, 4°over night

Immunohistochemical analysis of paraffin-embedded human uterus. 1, Antibody was diluted at 1:200(4° overnight). 2, Tris-EDTA,pH9.0 was used for antigen retrieval. 3,Secondary antibody was diluted at 1:200(room temperature, 45min).
For research use only. Not for use in diagnostic procedures.