Product Name: MPZL2 rabbit pAb
Catalog No.: ALT7231
Reactivity: Human; Mouse
Applications: WB;IHC-p
Source: Polyclonal, Rabbit,IgG
Formulation: Liquid in PBS containing 50% glycerol, 0.5% BSA and 0.02% sodium azide.
Concentration:1 mg/ml
Dilution: WB 1:500-2000;IHC-p 1:50-300
Storage Stability: -20°C/1 year
Gene Name: MPZL2 EVA EVA1 UNQ606/PRO1192
Protein Name: MPZL2
Human Gene ID: 10205
Human Swiss Prot No.: O60487
Other Name:
Subcellular Location: Membrane ; Single-pass type I membrane protein .
Expression: Widely expressed. In fetal tissues, highest expression in the inner ear. In adult tissues, highest levels in thymus and lung.

Western blot analysis of lysates from U2OS cells, primary antibody was diluted at 1:1000, 4°over night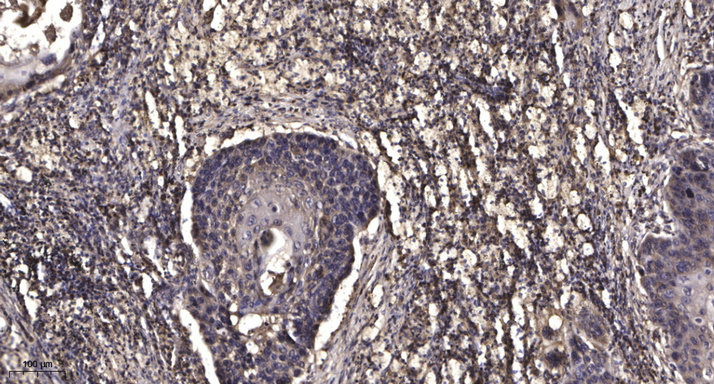 Immunohistochemical analysis of paraffin-embedded human Squamous cell carcinoma of lung. 1, Antibody was diluted at 1:200(4° overnight). 2, Tris-EDTA,pH9.0 was used for antigen retrieval. 3,Secondary antibody was diluted at 1:200(room temperature, 45min).
For research use only. Not for use in diagnostic procedures.