Product Name: Mesothelin rabbit pAb
Catalog No.: ALT7925
Reactivity: Human;Rat;Mouse;
Applications: WB;ELISA;IHC-p
Source: Polyclonal, Rabbit,IgG
Formulation: Liquid in PBS containing 50% glycerol, 0.5% BSA and 0.02% sodium azide.
Concentration:1 mg/ml
Dilution: WB 1:500-2000;IHC-p 1:50-300; ELISA 2000-20000
Storage Stability: -20°C/1 year
Gene Name: MSLN MPF
Protein Name: Mesothelin
Human Gene ID: 10232
Human Swiss Prot No.: Q13421
Other Name: Mesothelin (CAK1 antigen;Pre-pro-megakaryocyte-potentiating factor) [Cleaved into: Megakaryocyte-potentiating factor (MPF); Mesothelin, cleaved form]
Subcellular Location: Cell membrane; Lipid-anchor, GPI-anchor. Golgi apparatus.; [Megakaryocyte-potentiating factor]: Secreted.; [Isoform 3]: Secreted.
Expression: Expressed in lung. Expressed at low levels in heart, placenta and kidney. Expressed in mesothelial cells. Highly expressed in mesotheliomas, ovarian cancers, and some squamous cell carcinomas (at protein level).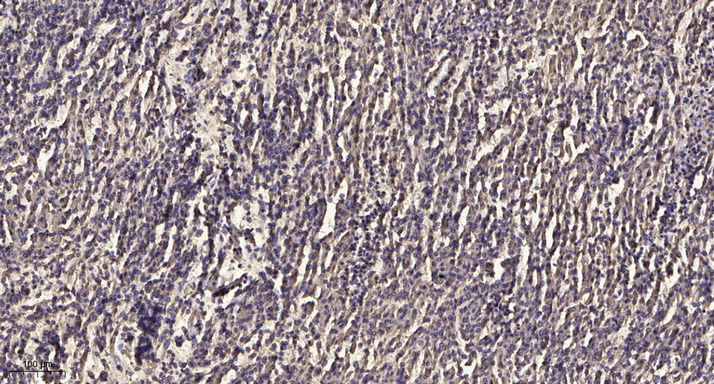 Immunohistochemical analysis of paraffin-embedded human meningioma. 1, Antibody was diluted at 1:200(4° overnight). 2, Tris-EDTA,pH9.0 was used for antigen retrieval. 3,Secondary antibody was diluted at 1:200(room temperature, 45min).
For research use only. Not for use in diagnostic procedures.