Product Name: LRRC3 rabbit pAb
Catalog No.: ALT7392
Reactivity: Human; Mouse;Rat
Applications: WB;IHC-p
Source: Polyclonal, Rabbit,IgG
Formulation: Liquid in PBS containing 50% glycerol, 0.5% BSA and 0.02% sodium azide.
Concentration:1 mg/ml
Dilution: WB 1:500-2000;IHC-p 1:50-300
Storage Stability: -20°C/1 year
Gene Name: LRRC3 C21orf102 LRRC3A UNQ9233/PRO31982
Protein Name: LRRC3
Human Gene ID: 81543
Human Swiss Prot No.: Q9BY71
Other Name:
Subcellular Location: Membrane ; Single-pass membrane protein .
Expression: Widely expressed; detected in testis, lung, small intestine, breast, brain, heart, bone marrow, placenta, colon, fetal brain, liver, fetal liver, thymus, salivary gland, spinal cord, spleen, trachea and adrenal gland.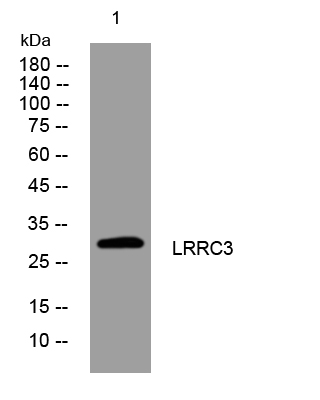 Western blot analysis of lysates from SH-SY5Y cells, primary antibody was diluted at 1:1000, 4°over night

Immunohistochemical analysis of paraffin-embedded human Squamous cell carcinoma of lung. 1, Antibody was diluted at 1:200(4° overnight). 2, Tris-EDTA,pH9.0 was used for antigen retrieval. 3,Secondary antibody was diluted at 1:200(room temperature, 45min).
For research use only. Not for use in diagnostic procedures.