Product Name: I-TAC rabbit pAb
Catalog No.: ALT7846
Reactivity: Human;Rat;Mouse;
Applications: WB;IHC-p
Source: Polyclonal, Rabbit,IgG
Formulation: Liquid in PBS containing 50% glycerol, 0.5% BSA and 0.02% sodium azide.
Concentration:1 mg/ml
Dilution: WB 1:500-2000;IHC-p 1:50-300
Storage Stability: -20°C/1 year
Gene Name: CXCL11 ITAC SCYB11 SCYB9B
Protein Name: I-TAC
Human Gene ID: 6373
Human Swiss Prot No.: O14625
Other Name: C-X-C motif chemokine 11 (Beta-R1;H174;Interferon gamma-inducible protein 9;IP-9;Interferon-inducible T-cell alpha chemoattractant;I-TAC;Small-inducible cytokine B11)
Subcellular Location: Secreted.
Expression: High levels in peripheral blood leukocytes, pancreas and liver astrocytes. Moderate levels in thymus, spleen and lung. Low levels in placenta, prostate and small intestine. Also found in epidermal basal layer keratinocytes in skin disorders.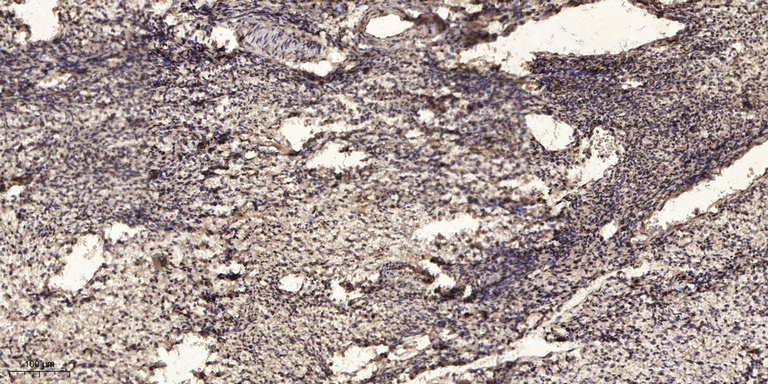 Immunohistochemical analysis of paraffin-embedded human oophoroma. 1, Antibody was diluted at 1:200(4° overnight). 2, Tris-EDTA,pH9.0 was used for antigen retrieval. 3,Secondary antibody was diluted at 1:200(room temperature, 45min).
For research use only. Not for use in diagnostic procedures.