Product Name: GSDMD n-ternal rabbit pAb
Catalog No.: ALT7991
Reactivity: Human;Mouse;Rat
Applications: IF/ICC;WB;IHC-p
Source: Polyclonal, Rabbit,IgG
Formulation: Liquid in PBS containing 50% glycerol, and 0.02% sodium azide.
Concentration:1 mg/ml
Dilution: IF: 1:50-200 WB: 1:5000-20000 IHC: 1:200-300
Storage Stability: -20°C/1 year
Gene Name: GSDMD
Protein Name: Gasdermin domain-containing protein 1,Gasdermin-D,GSDMD,GSDMD-CT,GSDMD-NT,GSDMD_HUMAN
Human Gene ID:
Human Swiss Prot No.: P57764
Other Name:
Subcellular Location: [Gasdermin-D]: Cytoplasm, cytosol . Inflammasome . In response to a canonical inflammasome stimulus, such as nigericin, recruited to NLRP3 inflammasone with similar kinetics to that of uncleaved CASP1 precursor. .; [Gasdermin-D, N-terminal]: Cell membrane ; Multi-pass membrane protein . Secreted . Released in the extracellular milieu following pyroptosis. .; [Gasdermin-D, C-terminal]: Cytoplasm, cytosol .
Expression: Expressed in the suprabasal cells of esophagus, as well as in the isthmus/neck, pit, and gland of the stomach, suggesting preferential expression in differentiating cells.

Immunofluorescence analysis of un-treated (left) A549 and UV treated(right) A549 cell. 1,primary Antibody was diluted at 1:200(4°C overnight). 2, Goat Anti Rabbit IgG (H&L) – Alexa Fluor 594 Secondary antibody was diluted at 1:1000(room temperature, 50min).3, Picture B: DAPI(blue) 10min.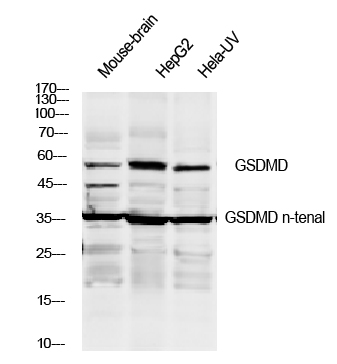 Western blot analysis of lysates from 1)mouse-brain, 2)Hela cells treated by UV 15min,3) HepG2 cells, primary antibody was diluted at 1:1000, 4°over night, secondary antibody HRP goat anti rabbit (Immunoway:RS0002) was diluted at 1:10000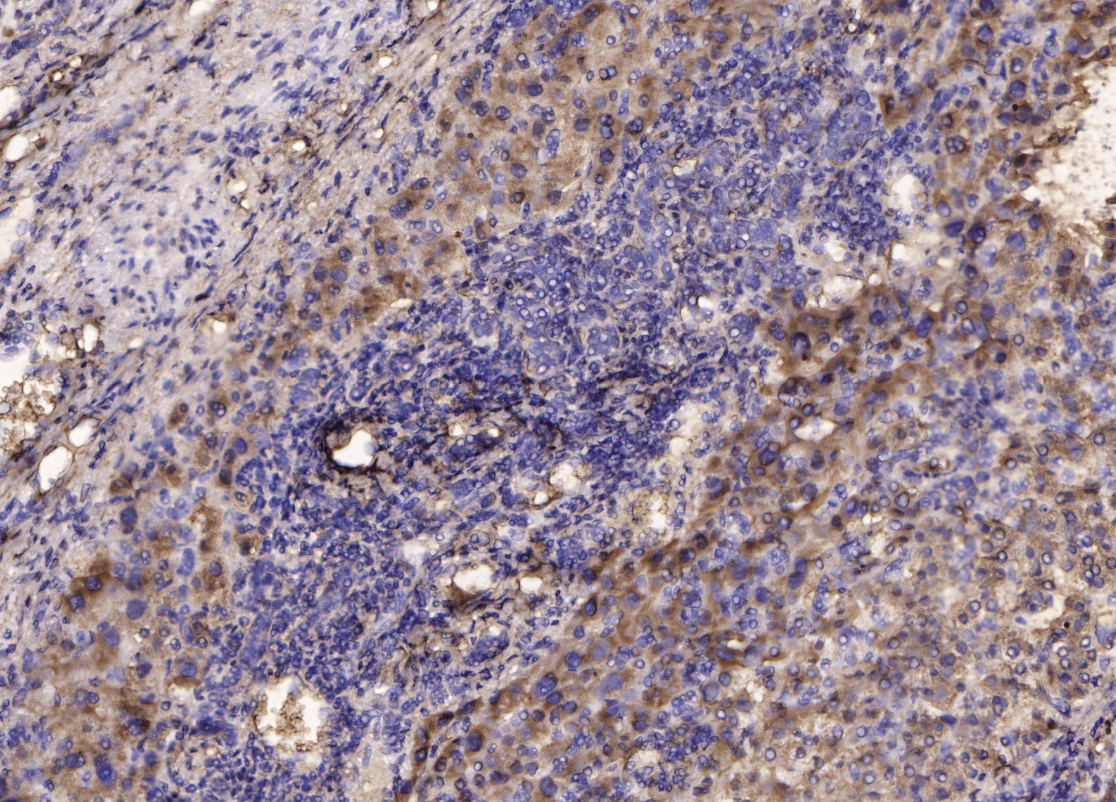 Immunohistochemical analysis of paraffin-embedded human Moderately differentiated hepatocellular carcinoma Antibody was diluted at 1:200(4° overnight).
For research use only. Not for use in diagnostic procedures.