Product Name: GGNB2 rabbit pAb
Catalog No.: ALT7517
Reactivity: Human; Mouse;Rat
Applications: WB
Source: Polyclonal, Rabbit,IgG
Formulation: Liquid in PBS containing 50% glycerol, 0.5% BSA and 0.02% sodium azide.
Concentration:1 mg/ml
Dilution: WB 1:500-2000
Storage Stability: -20°C/1 year
Gene Name: GGNBP2 LCRG1 LZK1 ZNF403
Protein Name: GGNB2
Human Gene ID: 79893
Human Swiss Prot No.: Q9H3C7
Other Name:
Subcellular Location: Cytoplasmic vesicle . Associated with vesicular structures. .
Expression: Expressed in heart, brain, placenta, lung, liver, skeletal muscle, kidney and pancreas. Expressed more abundantly in heart, pancreas and skeletal muscle.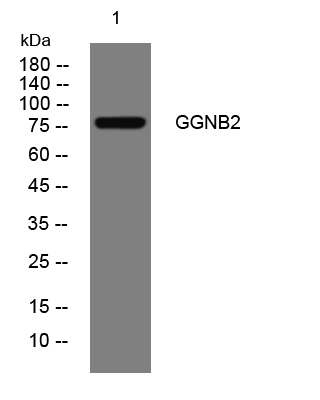 Western blot analysis of lysates from HpeG2 cells, primary antibody was diluted at 1:1000, 4°over night
For research use only. Not for use in diagnostic procedures.