Product Name: CC134 rabbit pAb
Catalog No.: ALT7436
Reactivity: Human; Mouse;Rat
Applications: WB
Source: Polyclonal, Rabbit,IgG
Formulation: Liquid in PBS containing 50% glycerol, 0.5% BSA and 0.02% sodium azide.
Concentration:1 mg/ml
Dilution: WB 1:500-2000
Storage Stability: -20°C/1 year
Gene Name: CCDC134
Protein Name: CC134
Human Gene ID: 79879
Human Swiss Prot No.: Q9H6E4
Other Name:
Subcellular Location: Nucleus . Cytoplasm . Secreted . Endoplasmic reticulum . Accumulates in the nucleus in response to UV irradiation (PubMed:22644376). .
Expression: Expressed in cervical gland, cervical squamous epithelium, endometrium, stomach, kidney distal convoluted tubule, spermatogenic cells in testis, mammary gland, liver and striated muscle (at protein level) (PubMed:18087676, PubMed:23070808). Also detected in placenta (PubMed:18087676). Highest expression in testis relative to other tissues (PubMed:18087676). Detected in T cells and dendritic cells; highly expressed in activated CD8(+) T cells, and also expressed at lower levels in CD4(+) T cells (PubMed:25125657).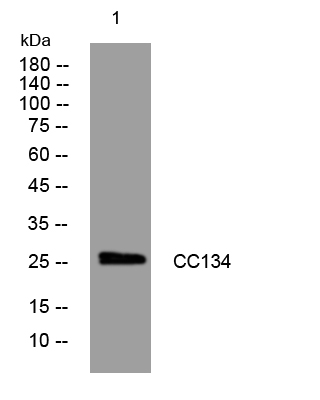 Western blot analysis of lysates from 293T cells, primary antibody was diluted at 1:1000, 4°over night
For research use only. Not for use in diagnostic procedures.