Product Name: BTBD9 rabbit pAb
Catalog No.: ALT7358
Reactivity: Human; Mouse;Rat
Applications: WB
Source: Polyclonal, Rabbit,IgG
Formulation: Liquid in PBS containing 50% glycerol, 0.5% BSA and 0.02% sodium azide.
Concentration:1 mg/ml
Dilution: WB 1:500-2000
Storage Stability: -20°C/1 year
Gene Name: BTBD9 KIAA1880
Protein Name: BTBD9
Human Gene ID: 114781
Human Swiss Prot No.: Q96Q07
Other Name:
Subcellular Location: cytoplasm,SCF ubiquitin ligase complex,
Expression: Detected in the brain (at protein level) (PubMed:22658601). Moderately expressed in all specific brain regions examined (PubMed:11572484). Expressed in the dopaminergic neurons of the substantia nigra and A11 neurons (PubMed:22658601). Highly expressed in kidney and moderately expressed in all other adult and fetal tissues (PubMed:11572484).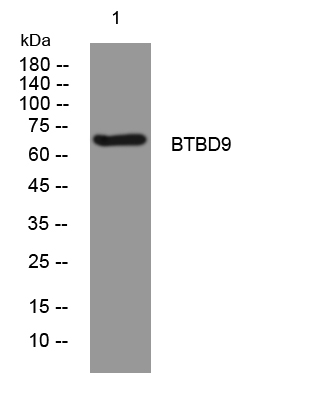 Western blot analysis of lysates from 293T cells, primary antibody was diluted at 1:1000, 4°over night
For research use only. Not for use in diagnostic procedures.